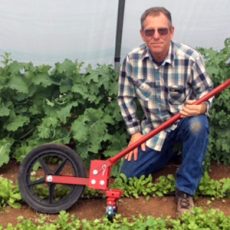 Hi. I'm Tom, creator of the TAG Equipment Wheel Hoe — the best wheel hoe you'll ever own.
My wife Marybeth has a horticulture background, so we started Eagle Tree Farm in 2012 to become part of the Farm to School program. Since then it has grown, and we now have 5 acres in Dolores, Colorado. The TAG Equipment Wheel Hoe was born right on our farm.
From Our Farm to Yours
Marybeth and I both worked in construction for 25 plus years. Marybeth worked as an operator, and I as a heavy equipment mechanic. In 2016, I left and started TAG Equipment Repair and Welding. This allowed me to spend more time on the farm, and today, life is hard but good. Neither of us wants to go back.
Eagle Tree Farm now provides produce to local schools, hospital, and restaurants. In 2013, we joined other local farmers working together and started the Southwest Farm Fresh Co-op. The co-op is a huge help in delivering all our produce throughout southwest Colorado. But we still had a problem.

Improve Farm Equipment
After a few years of working our own farm with other companies' equipment, we decided to look at wheel hoes. The wheel hoe is a staple farm tool, so we use it all the time. And I did not like the way the handles were designed. Those handles sit at an awkward angle, and make it hard to push the wheel hoe.
Having seen the development in ergonomics with heavy equipment to help relieve operator fatigue, I set out to build the handles better. For me this is the fun part, developing and figuring out how to build something. But we didn't just build a wheel hoe, we built the best wheel hoe.
Build a Better Wheel Hoe
Our TAG Equipment Wheel Hoe has ergonomic handles, rounded so you can grip them from many angles, for improved handing and control. Our handles are also rubberized, for ultimate comfort and ease of use.
Our wheel hoe has had a few upgrades over the years. We've made the handles height-adjustable. People on our farm range from 5ft 2in – 6ft 4in, so we need farm equipment that can adapt to anyone. All of our farmers find the TAG Equipment Wheel Hoe comfortable to use. Our wheel hoe has adjustable handles that lock in place with a simple pinning mechanism that is easy to adjust, and stays put. No more time wasted fiddling with equipment when you're trying to maximize your work day in the field.
In the past several years that we've worked on Eagle Tree Farm, we've become familiar with the tools we use day in and day out. And I've pushed myself to improve on them. Today, the TAG Equipment Wheel Hoe is available with a number of attachments to make farm work more efficient, for us and for you.
Save
Save
Save
Save